If you are interested and thinking about taking up pottery, then you'll want to know about pottery wheels. Whether you are an experienced potter or are just a beginner, the right equipment for anyone who is looking to achieve sculpting dreams is necessary. The essential equipment of course includes a pottery wheel. So, today we'll be telling you how to choose the right pottery wheels for you.
Pottery is a fantastic hobby, it can help you relieve tension and it is also a great way for you to make use of your time in a more efficient manner; every potter needs a pottery wheel, without one you basically can't do pottery. As you may imagine and if you are new to pottery wheels, be aware that these can differ when it comes to features.
Whether you are new to pottery wheels and are looking to get your first wheel, or maybe want to replace your old one, you have come to the right place. Below you'll find our top picks for the best pottery wheels, along with more tips and tricks you should know about.
Pottery Wheels Brief History
Pottery is an art that can be traced back up to around 29,000 BC. Its beginning purpose was solely for utilitarian purposes when clay pots and cups were made for drinking, eating, and cooking, using what they found in abundance; water, and clay made from mother nature herself. The practicality of pottery is one of the main attractions. However, producing something durable and beautiful from a pile of clay is very intriguing.
Before the pottery wheel was invented, the technique potters used to form their wares was hand-building / coiling. Once the pottery wheel was invented (sometime around 1,300 BC), the process of creating ceramics was faster and took a lot of the hard work of the potter's shoulders. Advances in the pottery wheel have made the potter's job even easier, allowing you to effortlessly create beautiful and functional pieces.
Pottery Wheels FAQs
Are pottery wheels expensive?
Regardless of the type and size of pottery wheel you want to buy, expect to spend between $400 and $2,000. Tabletop potter's wheels are the least expensive, but often boast only a small workspace for projects.
Is a pottery wheel hard to learn?
Again, this is a real learning experience. A skilled instructor has the knack for making the pottery-making process look simple, but a beginner should not expect it all to come so easy at first. Through practice, a willing student will become skilled at demonstrating the techniques shown to them.
What are the different types of pottery wheels?
There are basically two types of pottery wheels; the kick wheel, and the electric pottery wheels.
The electric pottery wheel is the normal entryway for home potters. They are easy to control, easier to center clay with, and more compact. There are various sizes of electric pottery wheels, from small table-top units, to fully kitted out wheels with splash pans and work surfaces built-in. Taking proper care and continuing maintenance, an electric model should last you up to 10 years or more.
Kick-wheels are bulky and cumbersome. Once it's in place, odds are you won't move it, so be sure the area you decide to place your new toy in is a permanent spot. These types are not only heavy but they are almost impossible to move. The kick-wheel may not require electricity but you will be required to use your leg muscles, a lot. While there are potters who claim this technique is relaxing and soothing, it can certainly cause knee or arthritis issues.
Electric Pottery Wheel Vs. Kickwheel
Pros
Lighter and smaller in size
Throwing is faster, which is especially important in production work
Many models are able to be transported
Cons
Reliance on electricity
Can be noisy
Inexperienced potters tend to increase rotational speed, which adversely affects the throw
Pros
Very low maintenance and will usually last a lifetime
Many come with motors to assist with getting the flywheel to speed
Easily allows for both counter-clockwise and clockwise rotation of the wheel head for both right-handed and left-
handed throwing
For some potters, kick wheels give a better "feel" for the throwing process
Cons
Extremely difficult to move and transport
Injuries can occur if the flywheel is used as a step
Long-term use may result in knee problems and aggravate arthritis
How do I choose a pottery wheel?
Size
Among the main things to consider when it comes to a wheel head is its size. Wheel heads with a larger diameter will be able to bear a heavier clay weight and allow you to make larger pots, bowls, or other designs.
Longevity
Pottery wheels last a long time; if properly maintained, an electric wheel can last a decade or more, while a kickwheel can last a lifetime. Therefore, if you plan on making ceramics a regular part of your life, it might be best to consider your long-term goals and needs as a potter.
Portability
The ability to move your pottery wheel when desired is not a necessity for every artist, but you should definitely know whether or not this characteristic is important to you before purchasing a pottery wheel.
Portable pottery wheels tend to be smaller and lighter, and though they have lower clay load capacities, they are very popular with teachers and those who give demonstrations at events and arts festivals.
Wheelhead Configuration
The wheel head is the revolving piece mounted in the center of a pottery wheel where your clay will be formed during the throwing process. While they do come in different shapes and sizes, most wellheads are flat, metal, circular surfaces, ranging from 8" to 14" in diameter.
Cost
Because the cost of a pottery wheel depends mainly on its capabilities and special features, it's first important for you to consider what your needs are based on the art you'd like to create, the space in which you'll be creating it, and how long you plan on using it for. Once you've determined your requirements, look for the wheel that can fit them for the best price.
What accessories do you need with a pottery wheel?
Bats
Bats are removable Masonite or wooden boards that cover the top of the wheel. They soften the hard plastic or metal wheel head and make it easier to transition between projects.
Splash Pan
A splash pan is a two-piece tub that latches around the wheel. It catches the excess water that flies off the wheel while you work. That way, you won't have to clean up gray water splatters all over your studio space.
Pottery Tool Kit
There are plenty of pottery tools out there to help you shape the clay while it's on the wheel. For beginners, it's always easiest to get a general pottery tool kit that has everything you need to get started.
Trimming tools: There's a large cutting head for broader cuts and a smaller loop tool for making finer cuts.
Needle tool: Great for poking air bubbles and making extra-fine cuts.
Wooden knife: Has one angled, pointed end for cleaning and another rounded end for smoothing.
Sponges: Helps smooth out the clay.
Ribs: Help with shaping pots and vases by making bellies and curves.
Wire tool: Used for cutting projects off the wheel head.
Pottery Wheels
This is a compact, portable design that makes it simple to use for beginners while meeting the complete throwing and shaping demands of professionals. Use for at-home fun, teaching in pottery studios, and more.
Minimum noise with a powerful copper motor which produces the most relaxing and productive atmosphere. Stable wheel with a seamless spin.
Modern, minimalist design with premium touch on the pottery machine's aluminum shell. Made with a continual dial for the desired speed.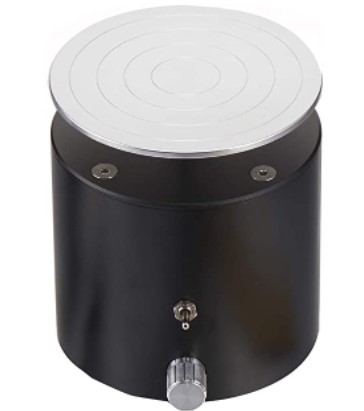 Pin
Features:
This small professional ceramic wheel machine is especially suitable for school teaching and pottery DIY shop, to satisfy professionals and pottery enthusiasts. This machine is suitable for ceramic pottery throwing and shaping process, ceramic teaching, and entertainment.
Removable ABS Basin can block splashing water and clay, and keep the working area clean. It can prevent water from penetrating into the inside of the machine and can be disassembled for easy cleaning.
Adopt a high-quality motor, and the wheel rotates smoothly. 0-300r/min rotating speed, less than 60dB, low noise. Adjustable speed, humanized operation, practical and convenient.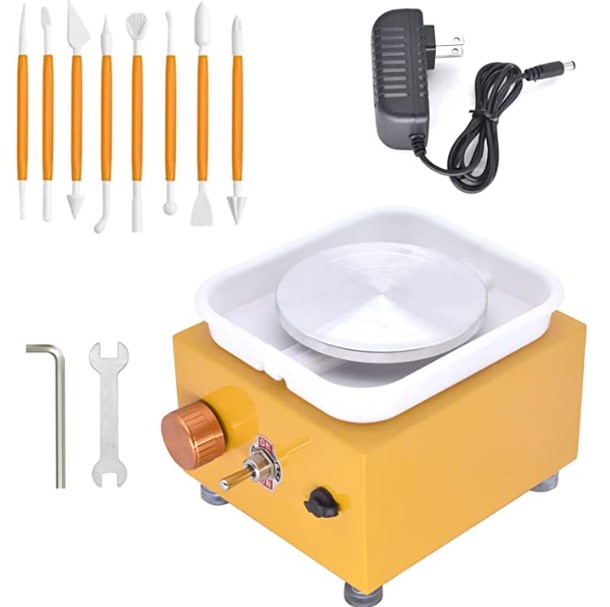 Pin
Features:
Strong Motor
Low Noise
Mini Size
The appearance of an electric pottery wheel machine is exquisite and small. Although the pottery wheel is small, it has a plate large enough, with a diameter of 13 cm (5.12 inches).
The fuselage adopts humanized design and excellent detail spraying treatment, which brings you a more pleasant mood.
Double motor design, safe and reliable operation. The advanced high-quality brushless motor can reach the speed of 0-200rpm (dual motor technology, it will make a sound when running, which is normal).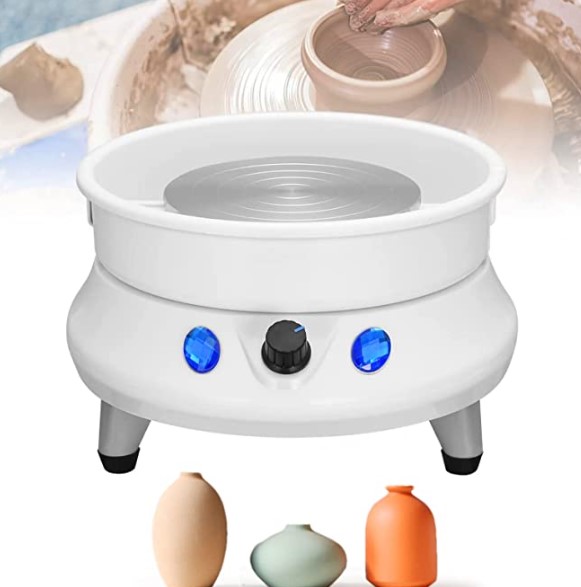 Pin
Features:
Dual Motor Drive
Widely Used
High-Quality Design
The sculpting wheel is made of cast steel, with heavy-duty ball bearings. The boot is made of non-skid rubber, to keep the wheel in place firmly.
The top of the sculpting wheel is designed with concentric circles for easy centering and rim weighting.
Pottery tool is a great tool for sculptor or artist who works in clay and ceramics making.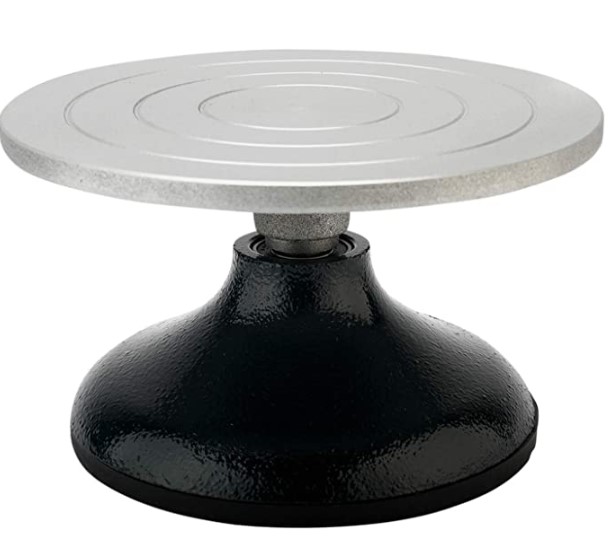 Pin
Features:
Heavy Duty
Cast Iron Metal Construction
Turntable with Ball Bearings
Metal + aluminum alloy material, compact and durable material, single-phase three-wire connection, with leakage protection device, very safe to use.
Compact structure, small footprint, good mud shielding. Easy cleaning ABS Removable basin is adopted as well. We also provide a set of shaping tools for the carefree working process. Saving your cost and energy.
Equipped with an independent foot pedal adjust the rotation speed; The wheels rotate smoothly and can be switched clockwise or counterclockwise. While working with your pottery use the foot pedal to control the speed of the rotation without removing your hands.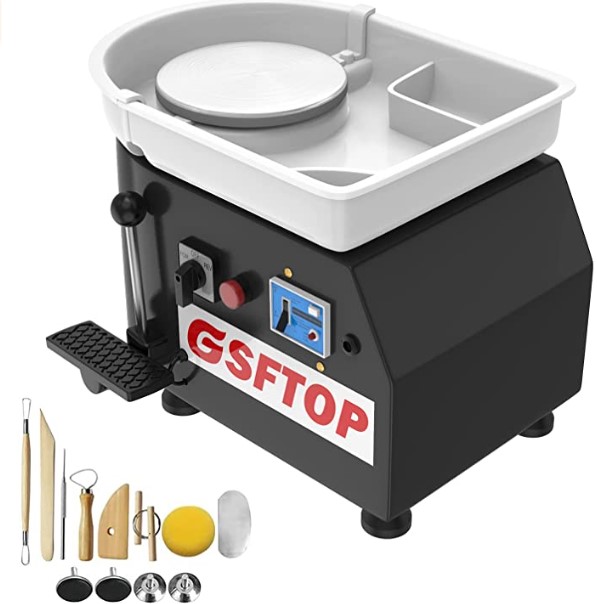 Pin
Features:
Flexible Operation
Safe to Use
High Quality