If you've been captivated by the world of pottery and you are feeling up to the challenge, today we'll be telling you about cool pottery vase ideas you will absolutely love. Pottery is a popular hobby and though it takes dedication, and patience chances are you'll be making your own little creations in no time.
Pottery is becoming more and more popular, and if you must know is great for relieving stress it is also a great way for you to make use of your time in a more efficient manner. Though it may not be exactly a cheap way to spend your time, it is also not extremely expensive; as you will be needing special equipment and a number of accessories to go along and that will help you achieve your sculpting dreams faster.
Putting aside the initial investment and the fear of the unknown, how cool would it be to create something with your own hands and better yet, see how it can be appreciated by others. Whether you are new to pottery or not, if you wish to know how to create a pottery vase you are in the right place. Check out below different pottery vase ideas so you can get started right away!
Pottery Vase FAQs
What is a pottery vase?
Ceramic vases are a fun way to switch up your style. These vase shapes can range in textures, colors, and styles to match any decor you like. Ceramic vases also work great in decorating bookshelves or outside entertainment areas. They are also known as novelty vase shapes and are best known for their pottery material.
What makes pottery valuable?
Some pieces of pottery are very valuable, while others are close to worthless. The value of art pottery can be determined using criteria like the condition of the piece, its condition, rarity, desirability, authenticity, provenance, and aesthetics.
What does a vase look like?
Vases generally share a similar shape. The foot or the base may be bulbous, flat, carinate, or another shape. The body forms the main portion of the piece. Some vases have a shoulder, where the body curves inward, a neck, which gives height, and a lip, where the vase flares back out at the top.
What is the top of a vase called?
Mouth: Top opening of a round ware such as a bowl, jar, or vase.
Why a pottery vase?
There's no easier way to brighten up a room than with some freshly cut flowers, but if you're going to display them, you'll need the right vase. The only problem is, that vases can be really expensive and so if you are into pottery why not make your own and save yourself some money.
What shape vase is best?
The best shape for a vase is an hourglass: wide at the bottom, narrowed somewhere in the middle, and slightly flared at the top.
What can I put in a ceramic vase?
The great thing about vases is that they look great both on their own and with flowers in them. Ceramic vases are extra nice because the stems of flowers can't be seen through them.
These super-simple minimalist white ceramic vases look great both on their own and as a set.
Small bud vases are great for putting wildflowers or small branches in to liven up your space.
Matte ceramic vases in different shapes and colors create a dynamic display that's made even more fun with the addition of plants in just a few of them.
Fill them with some branches of your choice: faux flowers or leaves. You can put birch branches inside to add a natural touch to the modern décor and fill the vases with glass pebbles to make the branches stable. If you want an eye-catchy touch, paint the vase ombre or just part of them with some bold paint.
How to arrange flowers in a ceramic vase?
Materials: Ivory roses, Orange spray roses, Peruvian lilies, Peach stock, Green button pompons, Mixed foliage.
Begin by adding bunches of mixed foliage to the base of the vase.
Add in the ivory roses and Peruvian lilies in a triangle shape.
Add in the orange spray roses and finish the blend of pinks, oranges, and green color scheme with green button pompons.
How to do a ceramic vase at home?
Tools: Cylinder glass vase, white clay, acrylic roller, clay cutter, acrylic paint, brush, baking soda, an old cookie cutter or glass, sandpaper, hot glue gun, glue sticks, cookie sheet lined with parchment paper.
Directions:
Roll out your clay to make handles. Get a generous about of clay and using your acrylic roller roll out your clay to about and dowels, you roll out your dough to about ¾ of an inch thick.
Cut out half-moons. Once you have your clay rolled out, using your cookie cutter or glass, cut 3 circles out of your rolled clay. Using your clay cutter or knife, cut your circles into semi-circles or half-moons as I like to call them.
Bake the clay. After you have your half-moons cut, you then bake them on parchment paper according to the clay package instructions. Once your half-moons are baked and cooled, check to see if you need to sand down the flat side with sandpaper and sand down to ensure it is flat as you'll be gluing it to your vase.
Glue half-moons into the vase. Using your glue gun, glue your half-moons onto your vase starting from the bottom and working your way up in a row.
Finish off the vase. Our last step is to paint the vase, you can paint it using a mix of acrylic paint with baking soda which gives your paint a grainy texture and will give your vase that pottery finish look.
How to upcycle a secondhand pottery vase?
Make sure your ceramic is clean and dry
Paint your base colors first. It may take a few coats. If you make a mistake, use a damp cloth to wipe away the paint before it dries.
Add details. You can do this with a smaller brush or fine nib paint pens. Let each layer dry between the painting, this will give you a smoother surface. Be gentle when handling your ceramic at this point because the paint can scratch off.
Once you've finished painting, let your ceramic dry for a few hours.
Spray the ceramic with a gloss spray. This adds a protective coat so the paint is fixed on and leaves a shiny glossy finish. Leave to dry for 24 to 48 hours before displaying.
Pottery Vase Ideas
Decorate Your Home Decor with Personality; showcase your style with this decorative distressed off-white petite ceramic vase set of 3.
Create a space in your home with refined rustic, yet elegant and effortlessly beautiful home décor pieces. The unparalleled design is so stunning you can use it on its own for a beautiful statement piece or add in faux florals, stems, and greenery for a pop of color.
Perfect for your tabletop, shelf in a family room, mantel, dining room, bathroom, or covered patio.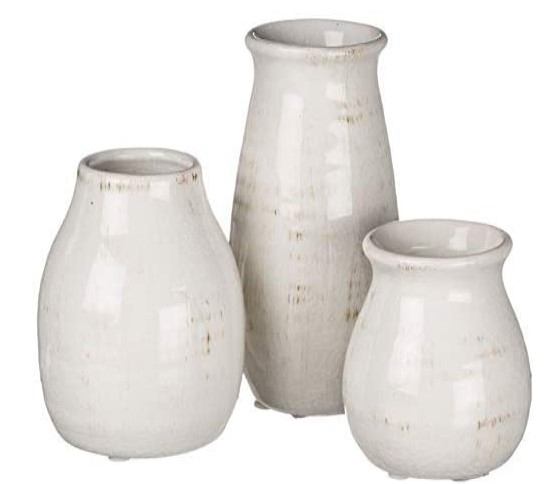 Pin
Features:
Ceramic
Multi-Purpose
Decorative
Navy vase with simple and distinctive lines, simple and distinctive lines, this ceramic vase can provide you with a soft comfortable view sight. Great for adding a decorative touch to any room's decor.
The clay vase is made with natural premium ceramic material, the mouth of the vase is round and soft, bringing a natural charm view if with a bouquet.
The bottom of the tall skinny vase with a non-slip mat. Protects your furniture well, great as a home decor vase.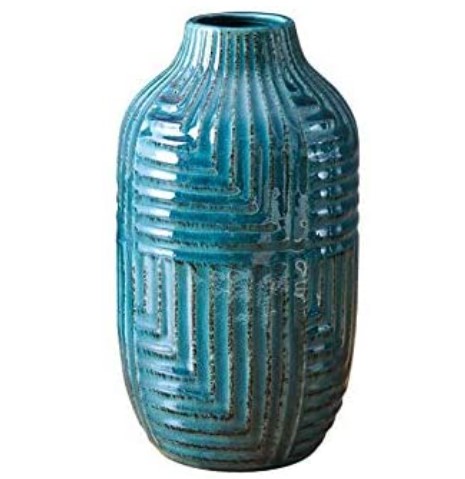 Pin
Features:
Elegant
Round Shape
Ceramic
The special design style of Flambed Glazed presents the unique style of Chinese porcelain, the vase adds artistic flavor to your interior decoration.
Perfect for the office or home décor, dinner parties, wedding planning, and other special occasions, This lightweight bud vase makes flower arranging fun and easy. They are the essential single flower vase for mini roses on your table.
Made of 100% high-quality ceramics by hand, the vases have a good ability of corrosion resistance, giving your flowers a safe and cozy home.
Pin
Features:
Set of 3
Flambed Glazed
Decorative
With a matte Morandi coloring finish, modern lines, and curvy silhouettes, these ceramic vases will be a modern statement to your home.
Decorate them with fresh or dried flowers. Eucalyptus and pampas grass is highly recommended. Or let them shine all on their own as an eye-catching decorative piece.
The geometric vases are made from high-quality dolomite material. The vases are expertly glazed which makes them more practical, and durable.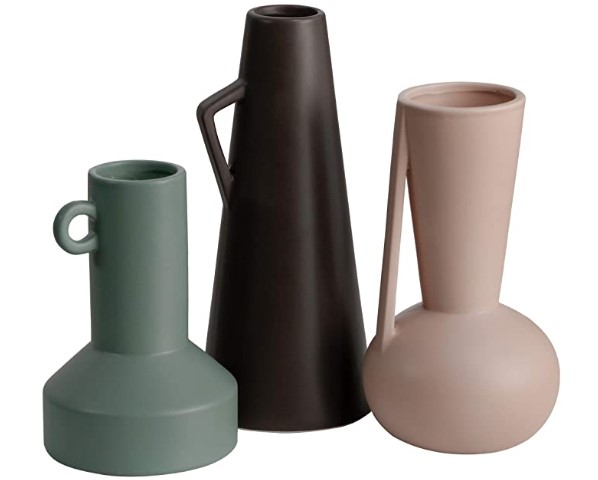 Pin
Features:
Matte
Geometric Shapes
Set of 3
A special matte glaze attached to the surface makes the vase looks soft and elegant. Designed with two handles to carry this flower jug more easily.
The stylish vase is not only a common vase for flowers but also stands alone as a decorative piece. This floral vase is handmade completely.
The surface of the vase no longer uses the traditional smooth texture but adopts manual kneading craftsmanship, which makes the vase unique and attractive.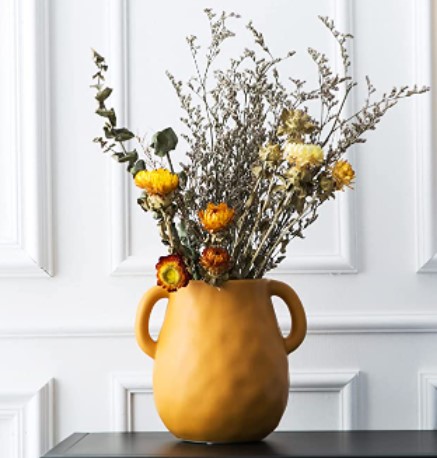 Pin
Features:
Decorative
Ceramic
Indoor