In the hunt for a pottery table? We hear you. If you are the artsy type, whether you are all about working with clay or are just a beginner, then you need to have the right equipment in order to achieve your sculpting dreams much easier. Such equipment of course includes the best pottery table you can find. This is the reason why today we'll be telling you all about the best pottery table options.
Working with clay is a great hobby, it can help you relieve stress and it is also a great way for you to make use of your time in a more efficient manner while at home. Pottery tables provide the right grip to prevent the clay from sliding off or from the clay sticking to the surface. It also needs to be somewhat absorbent but not too much that it dries out the clay too fast.
If you are new to pottery tables, be aware that these can differ when it comes to features as well as price. With many options in the market, choosing the best possible model for you may seem a bit overwhelming, however, doing your research is always a great starting point. In order to make things a bit easier for you and point you in the right direction, below you'll find our top picks for the best pottery table, along with a buyers guide.
Pottery Table FAQs
What is pottery?
The art of using and molding clay to create a vessel or ornaments. There are two main components to the process: shaping the clay (which you use your Wheel to do) and baking the piece in a Kiln to remove water from the clay and harden it.
What is a pottery table called?
In pottery, a potter's wheel is a machine used in the shaping (known as throwing) of round ceramic ware known as clay.
What is throwing in pottery?
The process of shaping clay using the pottery wheel. This is done by 'centering' clay on a spinning wheel and then using your hands to pull the clay into a shape. Throwing is an intricate process – having the right wheel can go a long way in helping you throw better.
What is firing in pottery?
The process of firing the shaped clay in a kiln. Like throwing, firing is a process that involves skill and detailed calculations. You have to work out which temperature will need for the clays and glazes you will be using.
What are the types of pottery wheels?
Motorized wheels are Electric Wheels that can be powered up with the flick of a switch, provided they're connected to a power source. Electric Wheels are more attractive, as they are more compact than Kickwheels and take up less space. They can also be easily moved if you want to relocate your wheel. In fact, they're so lightweight that you can travel with them, which can give you the chance to attend Pottery demonstrations at local fairs.
Kick wheels require you to use your foot to kick the concrete fly-wheel into motion to make the wheel spin. Kick wheels have been used for centuries and are durable and very low maintenance.
What are the types of electric pottery wheels?
Tabletop: Tabletop Wheels sit on top of a table and are lighter, portable, and occupy less space.
Seated: A seated wheel is a table with a wheel built into it; you simply have to pull up a chair to start using it.
Seated wheels have a foot pedal that you will have to press rhythmically to make the wheel move smoothly.
Are there any downsides to electric pottery wheels?
Rely on electricity to run: If you don't have access to a power outlet, you'll find yourself sitting at your wheel with a blob of clay and nothing to show for your time.
They can break down: As with every other electrical appliance, electric wheels can break down. Therefore, they occasionally need a little loving maintenance and repair.
Vulnerable to water: When you're throwing clay, you'll be using water to mold the clay and lubricate your hands. Electric Wheels are designed with this water usage in mind.
They can be noisy: Some Electric Wheels can be noisy and disturb everyone around them. If you're not using a separate pottery studio, this can be especially concerning.
What features to look for when choosing a pottery wheel?
Pottery Wheel Head
The main thing to consider when it comes to a wheel head is its size. Wheel heads with a larger diameter will be able to bear a heavier clay weight and allow you to make larger pots, bowls, or other designs.
Pottery Wheel Bat Pins
At times, a metal wheel head isn't suitable for the design you're trying to make or the conditions you're working in. In these cases, you have to attach 'bats,' which are additional plates for throwing to your wheel head.
Pottery Wheel Motor
The motor is what powers the wheel and is one of its most essential components. When looking at motors, pay attention to how much powerhouse the Motor has and the centering capacity. One-half horsepower is good if you don't plan on throwing large amounts of clay.
Reversibility
Most Electric Wheels now come with a reversible option, where you can change the direction the wheel is spinning. This is necessary even if you're right-handed, as changing the wheel spin can help you come up with interesting patterns and designs.
Splash Pan
Some Pottery Wheels come with splash pans that surround the wheel to capture any clay that flies off. Splash pans aren't necessary, but they do help protect your surroundings.
Weight, Dimensions, and Volts
The weight, dimension, and voltage of your machine are all aspects you need to consider when buying an electric pottery wheel. You need to ensure that the weight is manageable, and its dimensions will let you fit the electric wheel in the space you're envisioning.
What additional materials should you keep in mind when thinking about pottery?
Clay: Fortunately, Clay for Pottery is relatively cheap. But if you're a beginner, you're going to be using a lot of it as you practice and improve.
Hand tools: Pottery Hand Tools are used in every phase of pottery making. They come in many different materials, including metal, plastic, and wood.
Bats: Pottery bats are placed over the wheel head. They come in a variety of different materials, including wood and plastic.
Kiln: Once you've shaped your pot, you need to fire it in a kiln or fire pit. Kilns are the more practical way to bake your pottery but can cost between $500-and $4000.
What to keep an eye on when considering a second-hand pottery wheel?
Listen to the sound of the wheel: Make sure that when it's spinning, the wheel is humming and not grinding, stalling, or squeaking.
Check the pedal: If the machine has a pedal, check that you can step on it easily and that it doesn't get stuck.
Check the machine's stability: Make sure that the machine does not shake as you use it and that it doesn't slip easily. A machine that is not stable can not only ruin your designs but can also be unsafe.
Check the power cord of the wheel: When you're using a wheel that has already been used before, the power cord may be frayed, damaged, or have a loose connection.
Pottery Table
Easy to transport and very economical, the Artista is a tabletop potter's wheel that stores easily. It features a two-part removable splash pan, with space for two 2-1/2 quart buckets.
Features include plastic and steel construction, a smooth-running 1/3 HP motor, a hand-controlled, variable speed (0–220 rpm) Micro V-Belt, and enclosed working parts for safety and ease of cleaning.
The 11″Dia wheel head has a 25 lb centering capacity. Also included are two bats.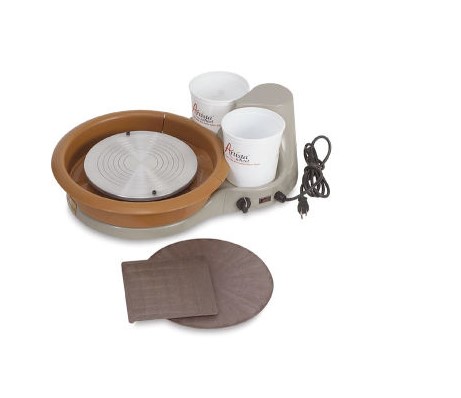 Pin
Features:
Electric
Micro V-Belt
Splash Pan
The Nidec Shimpo Aspire, a tabletop potter's wheel, can handle your most creative challenges.
Its lightweight, compact design makes it easy to transport, and its 20 lb centering capacity makes it a practical addition to any studio or classroom.
Available with either a hand lever or a foot pedal, the Aspire features a 1/3 HP, 100W DC motor, a 7″ alloy wheel head, and a removable one-piece splash pan. Also included are two 9-3/4″ bats.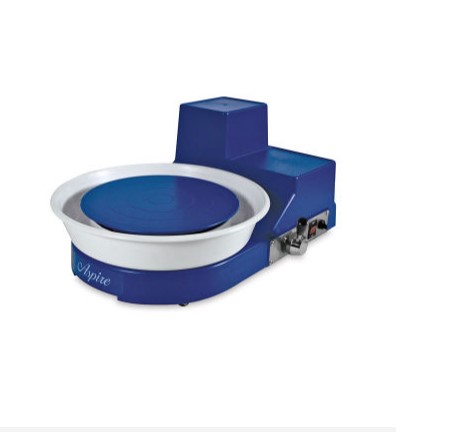 Pin
Features:
Lightweight
Compact
Removable Splash Pan
Professional heavy duty portable tabletop pottery wheel with a powerful 3/4 hp motor, 11″ wheel head, and two-part slash pan. Holds up to 25 lbs. of clay.
Easy to use LCD Display that's adjustable by a variable speed control knob or with the foot pedal when it's attached. Max Speed: 300 RPM.
Comes with a foot pedal for handless operation. Also comes with an 11″ plastic bat and a cup. Great for beginners and professionals alike.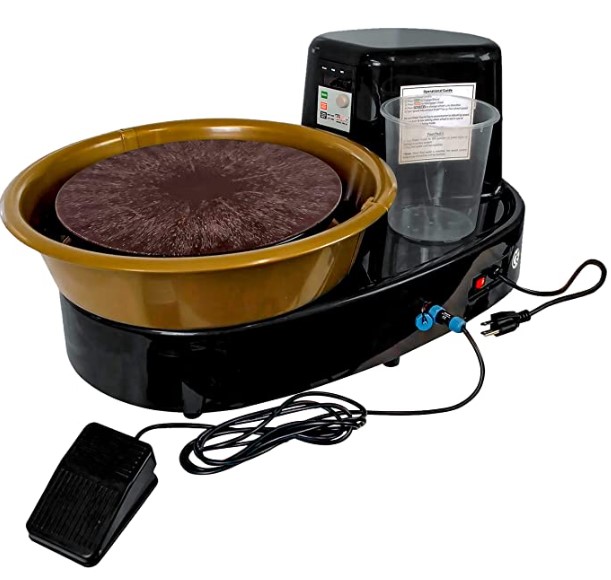 Pin
Features:
LCD Wheel Speed Display
Foot Pedal
Reversible Spin Direction
Easy to Use
The Nidec Shimpo VL-Whisper Potter's Wheel claims to be by far the quietest potter's wheel on the market,
The wheel head turns freely at 0 rpm, allowing use as a banding wheel. A remote foot pedal electronically controls the speed, and the reversible motor suits both left-handed and right-handed potters.
The VL-Whisper comes with three adjustable, removable legs that offer five different heights for floor and tabletop use, to accommodate adults, children, and individuals with disabilities.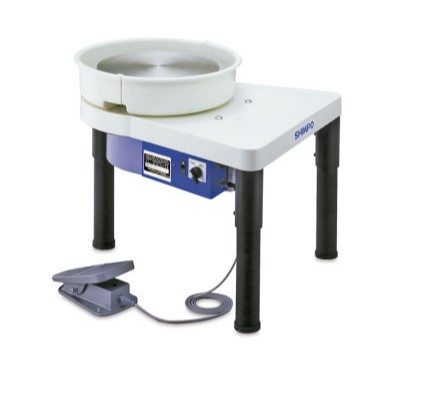 Pin
Features:
Belt-less System
Brushless 1/2 HP DC Motor
Adjustable Legs
This pottery wheel machine can be used for pottery professionals, urban entertainment pottery makings, children's pottery ceramic teaching in the school, etc.
This ceramic wheel machine is single-phase, with three-wire access leakage protection, which ensures a safe operation.
This Ceramic Work Clay Forming Machine can be widely used in children's school teaching, pottery shop or bar, at-home hobbyist, suits both ceramics professionals and amateur ceramic enthusiasts, it also can satisfy the development of Pottery special design.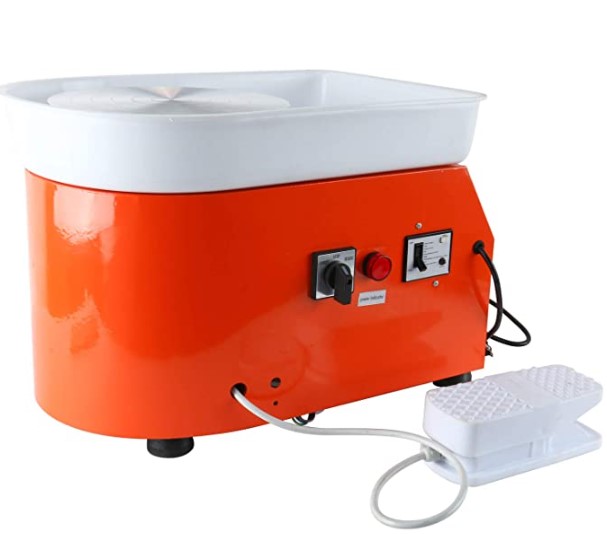 Pin
Features:
Speed Adjustable
Safe
Reliable