So you finally signed up for that pottery class you've been putting off for ages, and now you are feeling like Karen Karnes? Good for you! Pottery is a popular hobby and though it takes dedication, patience a lot of hard work, and focus, chances are you'll soon be making your own little creations, and why not you could even create a lamp! If you can relate, today we'll be sharing with you different pottery lamp ideas and more.
First things first, allow us to congratulate you for taking up pottery, which if you must know is great for relieving stress it is also a great way for you to make use of your time in a more efficient manner. In addition to having the willingness to become a decent potter, you will also be needing the right equipment and a number of accessories. Just like with any new project, all these tools will help you achieve all your potter dreams.
Though it may sound intimidating, a pottery lamp is a cool way to take on a new challenge and who off your skills. You could even gift it to someone special. Whether you are new to pottery or not, if you wish to know how to create a pottery lamp you are in the right place. Check out below different pottery lamp ideas so you can get inspired.
Pottery Lamp FAQs
Why do you need a pottery lamp?
Lamps are as much of a functional item at home as a decor piece, these not only help you survive winter but also help you see the light at the end of the very cold tunnel literally. That said, lamps can be crazy expensive, but what if we told you that you do not need to spend thousands of dollars to have a gorgeous lamp! Instead, you can create a similar design to your favorite lamp and at the same time, brighten both your home and your mood with your own creation.
How to make a ceramic table lamp?
Materials:
Kiln, Clay, texture mats, rolling pin, 4″X16.5″ paper template, clay tools, underglaze, glaze, brushes, sponge, water bucket, wooden plaque, wine bottle, masking tape, cardboard scrap, wooden stick to mix epoxy, epoxy, bottle lamp fixture, polyurethane
Directions:
Making the lamp base
Roll clay large enough to cut the template size. The roll texture mat into the clay, once the texture s embedded in the clay be sure to lift the clay before cutting to be sure it is not stuck to the table. Next cut the slab and turn it into a cylinder shape. Do this process 3 times, making sure the overlap in the back is consistent with each cylinder.
Mousehole
On the bottom of one of the cylinders cut a small mouse hole, this will eventually allow the electric cord to come out of the bottom of the lamp.
Top ring
Roll extra clay (add matching texture) large enough to cut a circle shape to place on the top cylinder. You can use a yogurt cup that is the same dimensions as the top of my lamp base cylinders to cut the shape and a smaller cup to cut the centerpiece out. If you save the centerpiece and turn up the edges slightly you can make a tiny ring dish or a teabag holder.
Painting and glazing lamp
When the clay pieces have dried thoroughly and been bisque in the kiln, paint the pieces. Using underglaze, paint each section of the lamp base, when dry, sponge the excess underglaze off each piece leaving the paint in the textured areas. (Same with the tiny dish if you kept it.) Then glaze the ceramics and re-fire.
Base of lamp
Prepare your wood for the base of the lamp. Assemble the lamp fixture in the wine bottle, taping the cord down the side of the bottle. Using epoxy (according to directions) glue the bottle to the base.
Building your lamp
Mix more epoxy and apply it to the bottom of the base. Then ease the ceramic base over the bottle making sure the cord goes under the "mouse hole". apply more glue to the top of the base and attach the ring. Add a bulb and your lamp is done. And so is your teabag holder.
How to paint your pottery lamp?
Painting the lamp is all about layering. You will need 3-4 different colors of paint for this project. Light-medium and dark.
Brush the entire piece with medium color paint
Dry brush the light color onto the textured areas (dry brush= making sure your paintbrush is relatively dry, use wispy strokes to paint)
Fade dark color along the bottom by dabbing paint with a paper towel, rag, or sponge
Dry brush again layering shades of each color
Repeating any of the above steps gives dimension to the look (the paints blend when wet so keep this in mind when you are layering)
When layering and faux painting, less paint is better (laying a trash bag or paper towels out allows for unloading paint as well as mixing colors)
Pottery Lamp
The Brighton hammered table lamp is a perfect accent for a cozy traditional or rustic home. The metal base has a hammered lamp texture in a warm bronze finish.
The shade is a beige linen drum with a brown top and bottom trim. Use a pair as bedroom lamps, or add a distinctive look to seating areas.
Bronze finish metal base with a hammered, textured look. Beige fabric drum shade with brown trim top and bottom.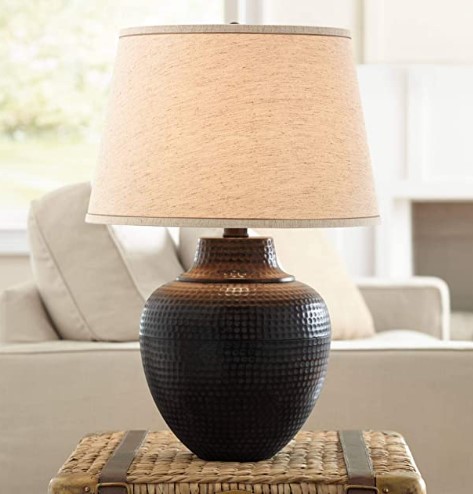 Pin
Features:
Contemporary Style
Pot Bronze
Table Lamp
Casual and chic, this lamp shines a light on style with its patina bronze-tone finish and eye-catching details. It'll stand out on a bedside table or home office desk
Made of patina bronze tone hammered aluminum with a modified drum shade; for best care, clean with a soft, dry cloth. Hammered aluminum accentuates the gourd shape for plenty of curved lines and cool beauty.
Admire this on a nightstand or bedroom dresser and watch how it lights up your life. Good lighting is a design essential, especially in bedrooms or modern living room spaces.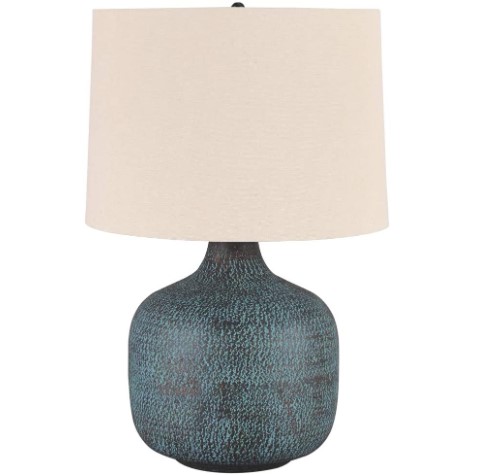 Pin
Features:
Table Lamp
Hammered Effect
Stylish
Add a stunning accent to the bedroom, entryway, or living room with this Safavieh table lamp. Features light grey distressed ceramic with a tapered drum shade.
Taking inspiration from ancient Greek Hydrias, this Ledger Table Lamp is a classic-contemporary must-have.
Ledger's light grey distressed ceramic gives it the feel of an heirloom relic, while a tapered drum shade makes it absolutely today.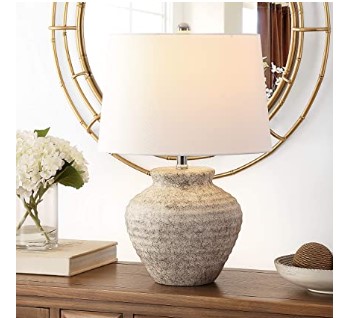 Pin
Features:
Ceramic
Contemporary Style
Light Gray
Place this set of two charming crackled ivory table lamps atop any table or surface for a country-inspired accent with rustic charm.
The design features a crackled ivory finish and rope-like details at the neck. The jar-style base is topped by a curvy bell shade with vertical ribbing. A classic design that fits into a variety of decorating styles.
A classic design lamp for your living or family room. A romantic country tone resonates in this set of two charming crackled ivory table lamps.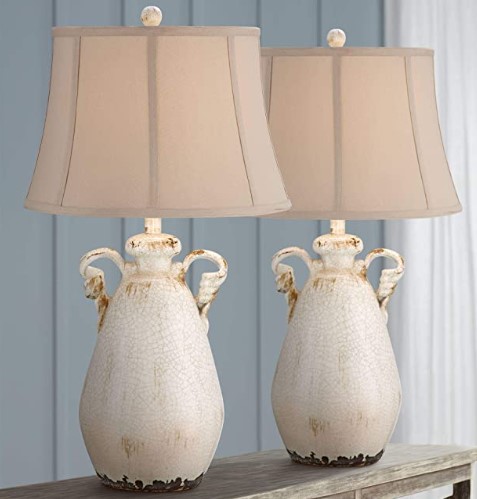 Pin
Features:
Ivory Ceramic
Farmhouse
Rope-like Details
This pair of traditional table lamps were designed with an antique resin lamp body and a white fabric lampshade. This lamp looks modern and simple, which creates an elegant atmosphere in your home. It matches many furniture styles such as industrial, modern, simple&minimalist, Nordic, and so on.
There's a USB charging port located in the base of this retro resin nightstand lamp which is convenient for your daily use.
You can easily charge your mobile phone, tablet, or other electronic devices, perfect for working or reading. The charging function still works whether the lamp is on or off.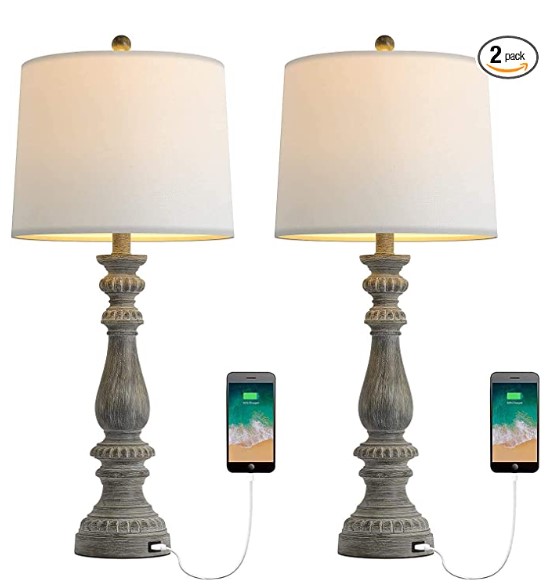 Pin
Features:
Rustic
Retro Desing
USB Charging Port
Antique white resin base and body, with retro-style stripes, make this table lamp present an elegant style. It can be used as a decoration and perfectly matches your furniture.
This nightstand lamp is designed for a retro and elegant look that adds aesthetic decor with beautiful soft ambient light to any space. It's a perfect gift for your family or friend.
This lamp is nationally recognized for its standard of safety. Each lamp uses one 60-watt maximum bulb and features an E26 socket, compatible with a variety of CFL light bulbs.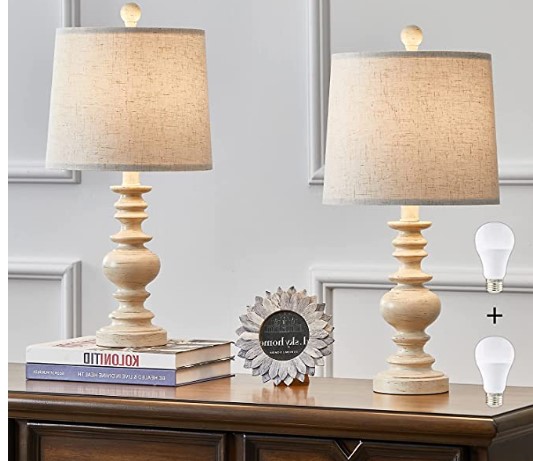 Pin
Features:
This pair of retro resin table lamps in an antique finish adds a cozy and elegant charm to your room. Each is 24.8″ high overall, ideal for office, living room, or bedroom nightstand.
The rotary switch is located on the body of the lamp for quick and easy use. Antique and unique, these traditional rustic lamps are perfect to elevate your room's decor.
This vintage desk lamp features ornate curves and a delicate design, and the white fabric lampshade makes this lamp emit soft and non-glaring light to protect your eyes, it's very suitable for reading or working.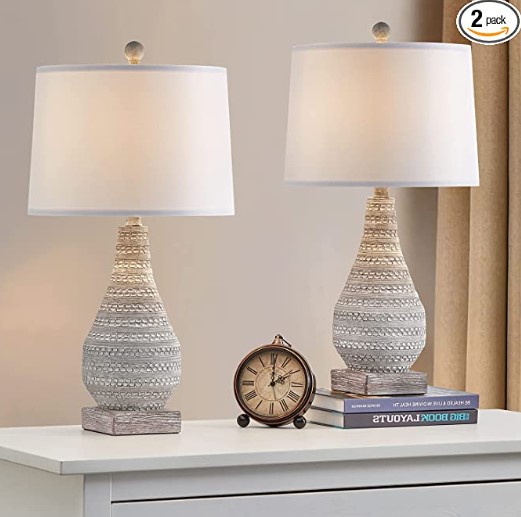 Pin
Features:
Eye-caring Design
Retro Style
Fabric
Reminiscent of traditional pottery designs, this Southwest jug table lamp brings old-fashioned charm into your home. The gently curving resin body comes in a rustic reddish-brown sandstone finish, with ridgelines that run across the middle.
On top is a plain linen drum shade, a subdued finishing touch to this charming design. An on-off switch is located on the socket for easy operation.
Featuring unique glass treatments, hand-applied finishes, and durable construction, John Timberland fountains, outdoor lighting, and garden accents are made for those who live large in the great outdoors.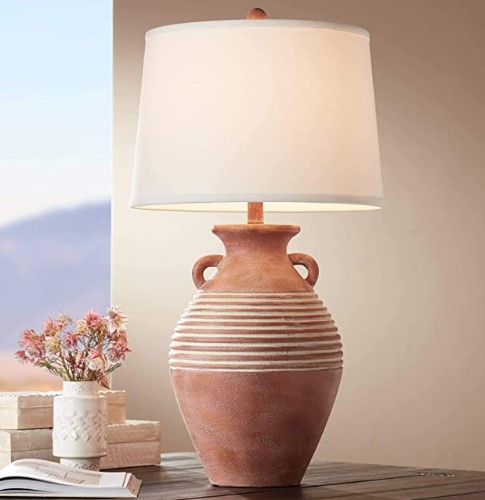 Pin
Features:
Durable
Resin
Hand-applied Finishes
Add a classy element to your decor with this beautifully designed lamp. It exudes timeless elegance with a vase-like shape and a beautifully glazed crackle effect.
A lamp with the 3-way switch is made with a ceramic base and a fabric-modified drum shade. Simply attach the lampshade and it's ready to use.
Fished in timeworn shades of ivory white and brown, this lamp fits farmhouse, traditional and contemporary decor styles. Set it on a bedside stand or office desk for a pulled-together look.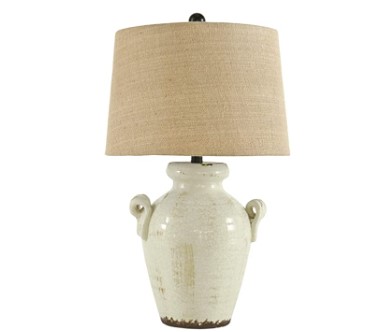 Pin
Features:
This beautiful pair of table lamps are a great addition to your home. Carefully crafted with ivory-colored ceramic, they are gracefully completed with white shades. The floral details on the lamp are delicate and romantic.
A decorative lamp design for your bedroom or living/family room. It is also dimmable with compatible dimmers and bulbs.
Lamps use one maximum 100-watt standard-medium base E26 bulb each (not included). On-off socket switches.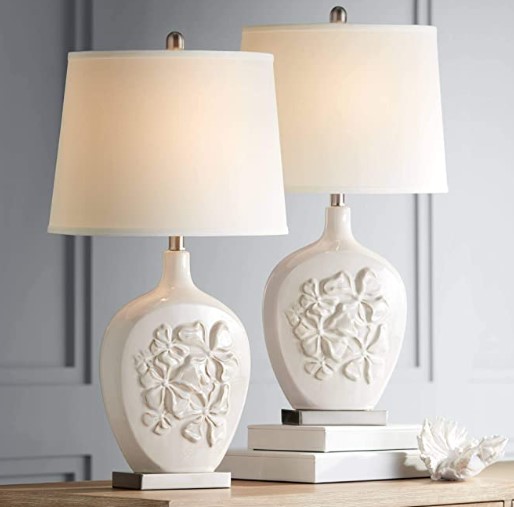 Pin
Features:
Country Style
Ivory White
Set of 2