Painting pottery is a creative and fun way to spend some time at home, even if you aren't making the pieces yourself. This is a great hobby that can help you relieve stress and it is also a great way for you to make use of your time in a more efficient manner, other than on Netflix. Whether you are all about working with clay or are just interested in the painting part, we'll be sharing with you easy pottery painting ideas.
It goes without saying when you are a beginner, you not only need to have the right tools, but you also need some techniques as well as some inspiration so you can make a masterpiece you can cherish forever. That said, just about anybody with the willingness to do it can give it a try.
If you are new to pottery painting, and you probably are if you ended up here, be aware that at first, you may not exactly love your work and may feel overwhelmed, however, think about it as a process, you know what they say: practice makes perfect. So be patient and persistent and with the ideas below, you'll certainly be making serious progress in no time. Continue reading and find easy pottery painting ideas, tips, and tricks.
Pottery Painting Ideas FAQs
What should I paint at pottery?
Acrylic paints, available at any craft store, work well on clay cups and pots. You can use acrylic paints to paint your cups a solid color or add intricate designs. Add a second or even third coat to your cups if the color appears too thin when the first coat dries completely.
What kind of paint do you use on ceramic pottery?
Ceramic tile or large pieces of pottery can be painted with latex, acrylic, or epoxy paint. You can paint a tile wall or ceramic vase with liquid paint that you can apply by hand. If you want a glossy, highly durable finish, you can use epoxy paint.
What to know when painting pottery?
Never paint your darks first. Paint your lights first and darks last, light colors don't show up too well on darker paints. Except for the color white.
Never use a pen! The pen leaves behind a residue that will cause flaws in your custom piece. For detailed designs, it can help to draw on the pottery with a pencil before painting. You can also use stencils.
Do not add water to the paint. It will only thin it out. However, do clean your brushes with water before adding another layer.
The full and dry coats of each color will cover your entire piece.
Use a different painting technique to add visual texture or a pattern to your pottery. Our in-house artists can show you how to use a stencil and practice different styles like the fluid effect or the bubbling effect.
Spread a layer of newspaper over your workspace for easy cleanup.
Try using a sponge to give a different texture to your design. Artificial sponges, such as kitchen sponges, will give a consistent pattern. Natural sea sponges will produce a more varied texture.
Do you need to prime ceramic before painting?
Even though ceramics have a smooth, glossy finish, they are simple to paint successfully. Using a primer on items with a smooth glossy finish it's essential.
Do you paint pottery before or after firing?
Glazing Pottery is mainly done after the first firing. This first round of firing is called bisque firing and changes the clay permanently making it much harder but still porous enough to absorb the glazes.
How to paint pottery at home?
Materials:
Unpainted pottery
Acrylic paints
Paintbrushes
Clear glaze
This piece is unglazed, unpainted bisque. Great for painting with either acrylic paints or ceramic glazes. This can be glazed and fired to cone 06 or simply painted with acrylics and displayed as is.
When painting, wipe first with a damp cloth and allow to dry completely. To make this item food-safe, it must be glazed and kiln fired.
You simply can't go wrong with these awesome ceramics. Makes a great family fun project for kids and adults alike.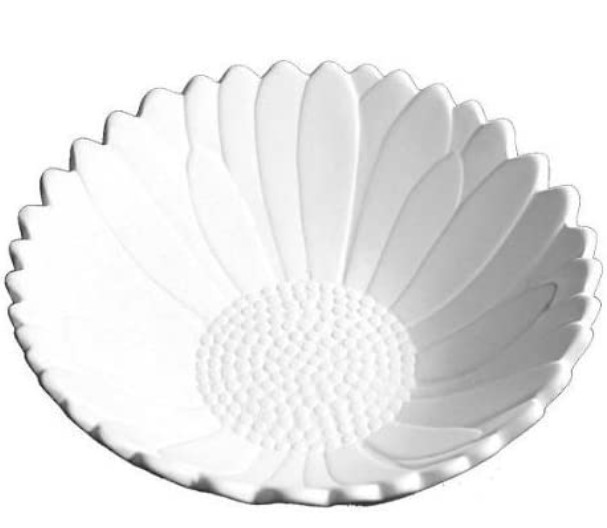 Pin
Features:
All colors are more vibrant, thick, and creamy. They glide smoothly, easily blend and dry quickly, safe and non-toxic for humans and the environment.
The non-fade acrylic paints can be brushed, stamped, or stenciled, applicable for different surfaces e.g. canvas, paper, wood, stone, ceramic, and canvas. Display your creativity anytime.
Each is labeled with colors, light resistance, transparency, and number, which is easy to recognize. The exquisite colored box package makes it an ideal gift choice for art enthusiasts, children, and professionals.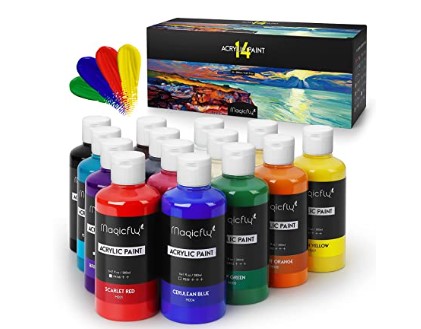 Pin
Features:
Non-Fading
Non-Toxic
Rich Pigments Colors
Nice combination of tips for design purposes, versatile miniature paint brushes allow you to do fine detailing and art painting precisely to reach tight, small spots or tiny points.
Works well with oil, watercolor, acrylic, enamel, cel-vinyl, and gouache paints. Great for wildlife, botanical, portraiture, doll, illustrations, miniature, model ships and airplanes, arts and craft, rock, leather, gesso and ceramic, or body, nail, and face art painting.
Artist quality small paintbrushes designed with durable synthetic nylon bristles, rust-proof nickel ferrules, and sturdy wooden handles.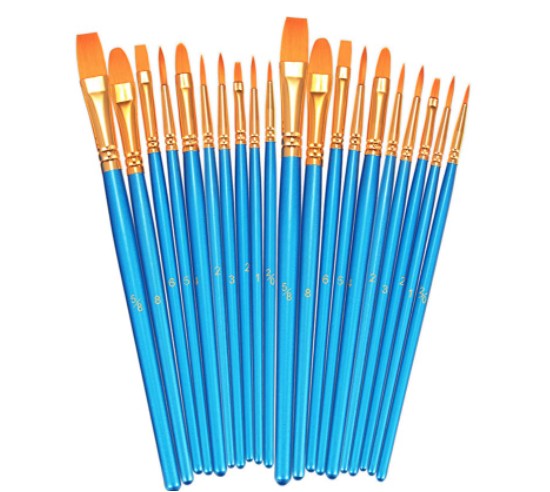 Pin
Features:
Nylon Bristles
Rust-Proof
Wooden Handles
Create. Innovate. Inspire. Art education shapes life by enabling students to express themselves more freely and develop critical life skills.
Add a polished, professional finish to your ceramic creations with the True Flow Gloss Glaze.
Sax True Flow Gloss Transparent Glaze has unusually bright and vibrant colors for a non-toxic series.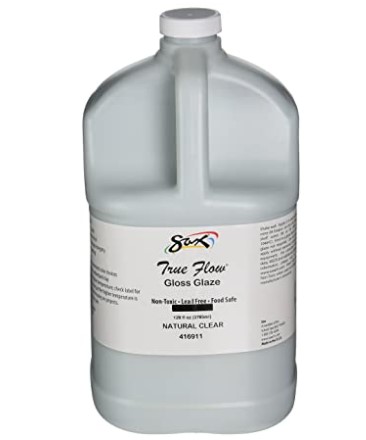 Pin
Features:
Non-toxic
Lead-free
Dinnerware Safe
Steps:
Wash your pottery gently to remove any dust or debris from its surface. Allow the pottery to air dry before painting on it. Do not wash pottery made from air-dry clay; instead, clean it with a dry paper towel if necessary.
Paint large areas a single color using a wide, flat brush. Always wash and dry your brush thoroughly before switching to a different color. Allow the base layers to dry before moving on.
Paint details and designs over your base colors using smaller brushes. If you make a mistake, wait for the area to dry, then paint over it.
Wait while the paint dries completely. This can take a few hours if you applied multiple or thick coats.
Cover your work with a layer of clear glaze. This will seal the pottery and help prevent the paint from chipping off.
Pottery Painting Ideas
#1 Pottery painting ideas for mugs
Since mugs are pretty small, it's normally best to stick to a simple design. And almost nothing is more simple than polka dots.
Covering your mug with these dots is super easy and fast. So you can paint all your mugs in no time. You can try some big dots, smaller dots, colored dots, or stick to the classic black dots.
For a design that looks slightly less symmetric, you can transform your polka dots into cow spots as well.
If dots are not your thing, how about some lines? You could use straight lines that run parallel or perpendicular to easy other. Or for a more chaotic design, you can cover the mug with randomly orientated zigzag lines.
If you are painting a mug for a loved one, you can paint heart patterns as well and write that person's name.
#2 Pottery painting ideas for bowls
Even though with bowls you have a lot more space to work on, you may want to start with something simple. A simple yet elegant way to paint your bowls is with swirls. Use a (very) big paintbrush and your favorite color paint, place the brush in the center of the bowl, and slowly twist the bowl while raising the brush.
For a slightly more complex design, you can also go with a repeating geometric pattern.
A fun painting idea to try with kids is making fruit bowls. You can paint your bowl with your favorite fruit such as lemon, lime, orange, watermelon, etc. Don't forget that you want to paint both the inside and the outside for the best effect.
Simple floral patterns on cups or bowls, are also another popular idea to make pottery come alive.
Pottery painting ideas for plates
Among all ceramics, plates are the easiest to paint. You can paint almost anything you want because most plates have little to no curvature.
Like always, you could use dots to paint some easy patterns. But if you don't want to make a repeating pattern, how about painting a heart made almost completely out of dots. Of course, you don't need to make a heart. You could paint anything you like by using different colors of dots.
Another easy idea for beginners is to paint half the plate using a solid color. You don't have to cover the entire plate with a pattern. Sometimes less is more. Half the plate can be a solid color and the other half can be decorated with a simple pattern using circles or lines.
Pottery painting ideas for vases
Vases have a lot of surface area, so you can make really detailed paintings if you want. But do not worry, as a beginner you can stick to simple designs.
Let's say you have three vases of different sizes, you can decorate them with 3 to 4 colored bands. Simple yet effective.
Since you have a lot of space to work with, you can also combine different patterns and ideas. You can paint bands or circles of solid color, and combine them with dots.