Are you interested in the captivating world of pottery? We hear you! If you are anything like us, you could spend hours watching how ceramic vases are created or learning about pottery techniques, styles, tools, etc. Well, today we'll be telling you about pottery stamps and how to use them. This may sound new to you, but actually, the idea of using stamp tools to decorate clay artwork is very old.
Pottery is becoming more and more popular, and if you must know is great for relieving stress it is also a great way for you to make use of your time in a more efficient manner. Like with any new hobby, special equipment and accessories that will enable you to come up with your own artwork are needed. And so, you may already have heard about pottery stamps, or not.
As you may imagine, pottery stamps help you come up with unique designs and make your pottery really something special. Whether you are new to pottery or not, if you wish to learn more about pottery stamps, you are in the right place. Check out below different pottery stamps options and how to use them in order to elevate your pottery creations to the next level.
Pottery Stamps FAQs
Why do you need pottery stamps?
The end result shows the kind of effect you can make using rollers and stamps for surface decoration. Using a glaze that will allow the differences in surface marks to show through can achieve wonderful designs on your ceramic work.
The main goal is to create a repeatable texture or image that can be used to mark or decorate your clay work before the clay is dry.
What do marks on pottery mean?
Potter's mark, also called factory mark, device for the purpose of identifying commercial pottery wares. Except for those of Wedgwood, stonewares before the 20th century were not often marked. On some earthenware, potters' marks are frequently seen, but signatures are rare.
Pottery stamps types:
Most stamps for clay are of two main types, either maker's marks (chop) or a logo/design to decorate the surface of your work.
Maker's marks are usually smaller in the size range of 1/4″ to 1-1/2″ (about 8 mm to 38 mm). A single mark is a small stamp that contains a letter, symbol, or image. Design stamps are longer and are made to stamp a large area of the pottery; these stamps are usually more intricate, as well.
Stamps with a logo for mugs or similar vessels are usually larger than 1-1/2″, with 2″ to 3″ sizes being the most common sizes to use. Also known as patterned stamps, these are used to create a generic pattern and may be used over and over again to cover an entire piece of pottery. The material of the pottery stamp will determine how well the stamp works and its overall quality. Pottery is commonly touched and used, so choosing a texture stamp may add an extra layer of depth and appeal to the pottery.
What are pottery stamps made of?
Pottery stamps are made from many different types of materials, though the most common materials are rubber, ceramic, and wood.
Rubber stamps are often recommended because they are usually the cheapest and easiest to find; some artists do not like rubber stamps, however, because they are flexible and may not stamp evenly on the pottery's surface.
Rubber stamps can also be pressed into clay to create designs or patterns that can then be cut and applied to pottery as a raised design effect.
Ceramic stamps are more expensive but are sturdy and easily stamp into quickly drying pottery.
Wood also is sturdy and is easier for woodworkers to customize or change when compared to rubber and ceramic.
How to choose a pottery stamp?
A patterned pottery stamp uses a series of lines and other markings that, when stamped near each other, create a pattern. If the user wants to cover the entire piece of pottery with a uniform design, then choosing a patterned stamp will make this simple.
If the artist is just looking to stamp a small area, getting a patterned stamp may be a bad idea, because these stamps look best when used on a large area.
Some texture pottery stamps push into the pottery, creating a better imprint but also warping the pottery the most.
The other stamp type pushes the texture's outline onto the pottery, which causes very little of the pottery to be pushed inward; the downside to this stamp is that it may leave a square border on the pottery piece.
How to use a pottery stamp?
To stamp a cup
Place the left edge of your stamp against the surface of the cup that you want to stamp. The right edge of the stamp will be away from the cup at an angle. Carefully rock the stamp from left to right over the surface of the cup as smoothly as possible so that the stamp is applied evenly to the cup.
To stamp a curved surface
Hover over the curved piece to get the orientation just the way you want it, then lower the stamp down steady from the center down. Holding the stamp with your right hand, press down with gentle, even pressure from the center out, and then switch hands; applying gentle pressure with your left hand.
Letters on pottery
Lettering can be applied with a very thin script brush or liner brush. Brushes can be purchased at any art store or pottery supply store. The use of a good quality sable brush for lettering will hold much more glaze and give you a nice smooth stroke. Apply lettering to the background glaze that has dried completely.
Can stamps get stuck on clay?
Sometimes, stamps can stick to your clay. This can feel frustrating, but you can usually fix it fairly quickly. To help your rubber stamp release from your clay evenly and predictably, dust the clay with a bit of cornstarch.
What is a bisque stamp?
Bisque is the first firing. The fired piece is still porous but can no longer go back to being clay. The bisque stamps will not stick to wet clay until they have absorbed moisture from use. Leave them to dry out and use again.
Pottery Stamps
The 70 Pcs Rubber Stamps include 26 capital alphabet stamps, 26 lower case letter stamps, 10 number stamps, and 8 punctuation stamps( a period, a question mark, an exclamation mark, quotation marks, a hyphen, parentheses, colon, and an ampersand mark).
You can use these rubber stamps to photo albums, scrapbooks, write a letter, keep a diary, make cards or tags. What's more, teaching your baby to learn letters and words by these stamps is so interesting.
The Interesting stamps with different kinds of creative designs are good for children's intelligence development. They also can act as educational toys.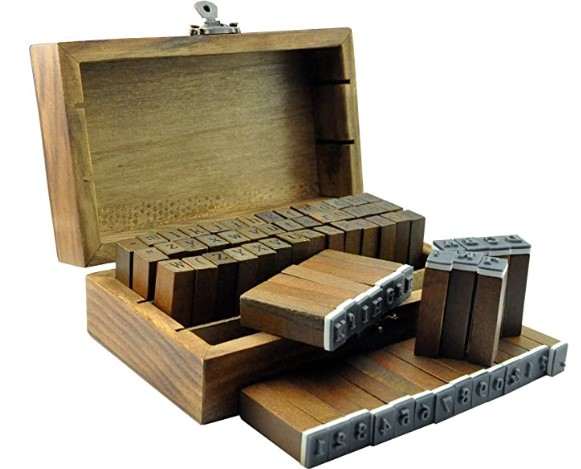 Pin
Features:
Wooden, Rubber
Multi-Use
Storage
The polymer clay stamp set is made with a 0.4mm cutting edge, that can guarantee a clean and sharp cut for jewelry-making beginners.
The pottery stamps contain 6 boho shapes that are made of high-quality PLA material. Ensuring they are not easy to break and sturdy for durable use.
The modeling pattern stamps kit with embossed design makes the pattern printed clear and the texture is more obvious for your jewelry making.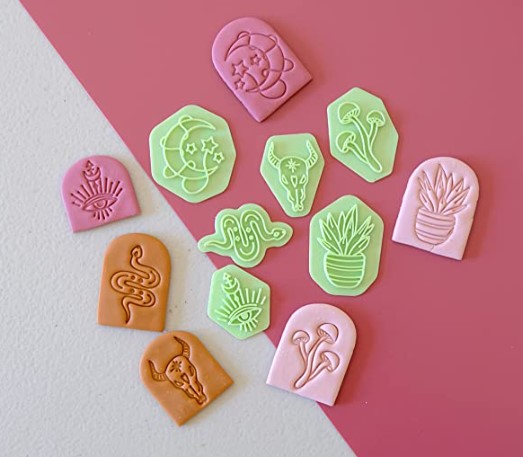 Pin
Features:
3D Printed Stamps
6 Boho Shapes
Versatile
The clay stamps are made of high-quality wood, smooth surface without large knots and thorns, durable and long-lasting.
With a clear and even pattern, easy to use with any crafting clay to design and create your own personality clay embellishments.
These wooden stamps are normally made for marking soft clay and also can be used for modeling clay, dough, painting, and more.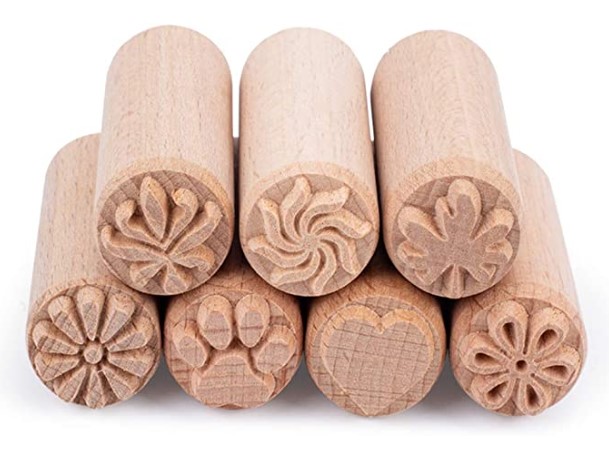 Pin
Features:
Wood
Easy to Use
Portable
Personalize your stepping stone and create a family heirloom with Traditional style Letters and Numbers Stamps
Traditional Letter stamps include the full alphabet and all numbers, plus punctuation.
Easy to use for all sorts of stamping from clay to concrete to cake decoration. The big, clear block letters look classic and clean.
Personalize your stepping stone and create a family heirloom with Traditional style Letters and Numbers Stamps. Easy to use for all sorts of stamping from clay to concrete to cake decoration.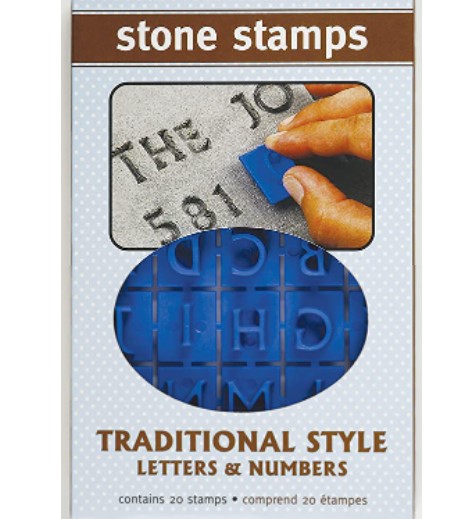 Pin
Features:
Traditional Style
Letters/Numbers
Multi-Use
Now you can make block prints on fabric, clay, and pottery. Make block prints on soap, ceramic, and dough.
Make block prints on wax, candle, and biscuit.
Use sponge cushioning under fabric for block printing. Load color on the block with a sponge not with an ink pad. Apply gentle pressure on the block for clay to avoid mess-up.
Do not wash blocks with water after use. Just clean blocks with a dry cloth & brush.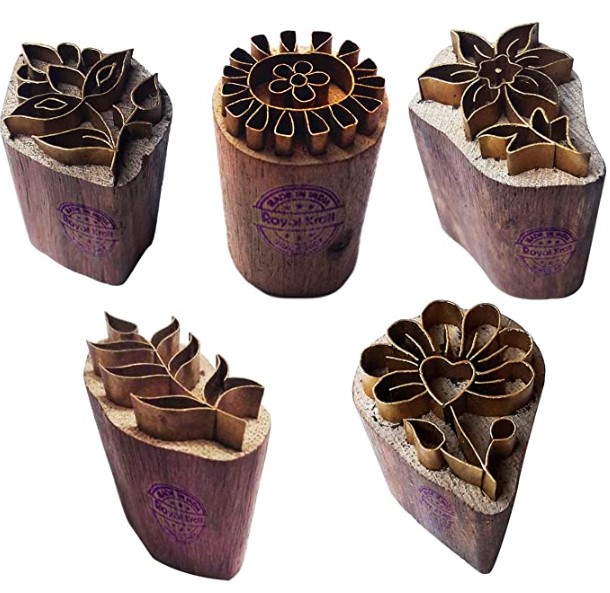 Pin
Features:
Wood
Pull-out Design
Variety